Weekly Events
Wednesday 10:15am - StoryTime
Thursday 2-4pm - Puzzle Pitstop
Friday 2-3pm - Basic Tech Assistance
Friday 3:30-4:45pm - Kids Chess Club
For information about all events visit our calendar.

Curious about events we are offering for kids? What about Tweens and Teens? They have their own calendars now!
The Children's calendar can be found here.
The Tween's and Teen's calendar can be found here.
Life-Sized Candy Land
December 27th to 29th
Join us for family fun when you come by between 10 and 5 (last start time is 4:15) on December 27th, 28th, or 29th to play Candyland, but you'll be the pieces!
Advanced registration for a time-slot is appreciated; please contact the library to do so.
Make a Vinyl Record Clock
Monday, December 4 at at 6PM or Thursday, December 7 at 11AM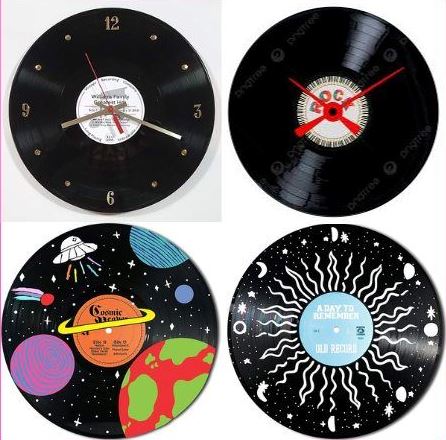 On Monday, December 4 at at 6PM or Thursday, December 7 at 11AM, make a working LP record clock for yourself or someone else. We have skeletons, we have butterflies. Stick on some rhinestones or use paint pens to create your own design. There are numerous options for numbers and clock hands. It is your work of art. Registration required.
Upcoming Library Closures
Monday, December 25th: Closed for the Christmas holiday.
Monday, January 1st: Closed for New Year's Day.
Library Board of Trustees Meeting
Next Meeting Dates:
12/20/2023
The Pease Public Library Board of Trustees meets the third Wednesday each month except when scheduling conflicts arise
Library of Things
Need to connect to the internet at home, or sew up a hole in a piece of clothing, or how about checking the wattage in your outlets? We have mobile hopspots, Chromebooks, sewing mmachines, Kill-a-watt detectors, and more coming soon. All available to take home with a library card!

Pease Public Library on PBTV
The library has it's own show on PBTV. "Check It Out!" where Assistant Director Becky tells you all about what's happening each month. You can find the newest episode here!
Upcoming Events
Storytime, Movies, Puzzles, Book Discussions and more. Check out all of the upcoming events at the library here...